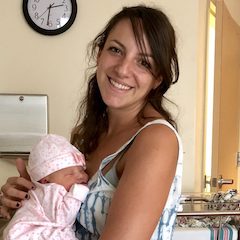 Taylor Lo Grasso
January 29, 2023
About Taylor: Preserving the right to birth your way with a focus on relaxation and intuition. Presenting evidence-based information on options, empowering families to make informed choices suited to their unique situation. Serving as a witness to the family's transformation. Providing vital information and resources on the natural course of birth while honoring the family's preferences every step of the way.
Taylor is a holistic doula and human development enthusiast. She realized her calling into work as a doula within the last couple of years and is eager to provide the highest quality doula and yoga care. Her job is to be NEAR: to Nurture, Educate, Assess, and Refer with special attention to the mother-baby dyad. Taylor also offers yoga classes and educational workshops.
"I love working with families as a birth and postpartum doula, because I find it an honor to be welcomed into their sacred space to listen, comfort, and support their every choice. I am eager to help moms, dads, siblings, and even those furry relatives integrate baby into the family. I strive to provide warm, responsive, and nonjudgmental physical and emotional support to all mothers throughout the pre and perinatal periods. My goal is to honor women in their ever-evolving role, assisting with preparation and processing of the birth story, modeling unconditional love for all, and nurturing the new family. I would love to speak with you about how I can support you as your journey through motherhood."
Taylor's training includes:
Holistic Birth Doula Training from The Matrona, 2020
DONA International Certified Postpartum Doula PCD(DONA), 2018
Bachelor of Science Psychology, Human Development, & Family Science from University of Georgia, 2015
Breastfeeding Basics & Problem Solving by Mountain Area Health Education Center, 2019
Screening for Perinatal Emotional Distress by the Seleni Institute, 2019
American Red Cross Child and Baby First Aid/CPR/AED
Pre & Perinatal Practitioner Certification, 2021-2023
In her spare time, Taylor can be found enjoying the outdoors with her dog, Leon, sharing food with friends and family, practicing yoga, and traveling to old and new places. 
Contact Taylor
✉️ tuluahealingarts [at] gmail [dot] com
📞 203.918.7258
💻 tuluahealingarts.com